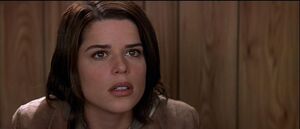 Sidney Prescott is the main protagonist of the Scream series, and is played by Neve Campbell. She appears in all three Scream films. Sidney is the daughter of Maureen and Neil Prescott, and the half sister of Roman Bridger. Sidney's best friend in Scream was Tatum Riley, and her best friend in Scream 2 was Hallie McDaniel. Sidney has also had a few boyfriends in the series. Sidney's boyfriend in Scream was Billy Loomis, and her boyfriend in Scream 2 was Derek Feldman. Sidney also lost her virginity to Billy Loomis in Scream. Sidney was raised by her mother and father until her late teens when her mother was brutally raped and murdered by her boyfriend, Billy Loomis.
Ad blocker interference detected!
Wikia is a free-to-use site that makes money from advertising. We have a modified experience for viewers using ad blockers

Wikia is not accessible if you've made further modifications. Remove the custom ad blocker rule(s) and the page will load as expected.