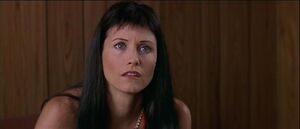 Gale Weathers is a character that appears in all three Scream movies, and is played by Courteney Cox. Gale is a reporter and a writer that is very nosy and rude, but as the series goes on, she becomes a much kinder person. She has written three books: her first book is about Maureen Prescott's death, and how she believes Cotton Weary is innocent, her second book is about the Woodsboro murders, and her third book is about the copycat killings. Dewey also proposed to Gale in Scream 3, and they are now currently married.
Ad blocker interference detected!
Wikia is a free-to-use site that makes money from advertising. We have a modified experience for viewers using ad blockers

Wikia is not accessible if you've made further modifications. Remove the custom ad blocker rule(s) and the page will load as expected.